For the past 10 days Katrina Christenson, our first Guatemala Global Advocate, took over our social media to give a glimpse into Glorious' new partnership, the beautiful community of Panajachel and her work & life on the ground. Meet Katrina and check out a recap of her #10daytakeover posts!
MEET INGRID & El ÁRBOL DEL NIÑO
Meet Ingrid: Our newest partner in Guatemala, and director of the holistic education center El Árbol del Niño. Ingrid comes from a family of activists who stood up for human rights amidst the Civil War in Guatemala. She previously worked with UN Women in micro-finance and then led programs for an education non-profit working in rural villages throughout the country. Ingrid realized that there is much lacking in the Guatemalan School System and decided to fight for what she believes in. "We need critical thinkers, problem solvers, and children who will become agents of change in their own communities." By making small, positive changes, we will create big, long-lasting impacts. Ingrid is a true innovator in today's world of contemporary educational challenges, empowering the next generation and breaking the cycle of extreme poverty. Ingrid is one of the most hardworking, kind, and passionate women I know, I am so grateful to get to learn and work with her everyday!
The children's favorite art project last year at El Árbol del Niño, was making "barriletes", or kites out of colorful tissue paper and reeds. Each one added their own personal flair and they turned out beautifully! These kites are used in Guatemala during El Día de los Santos to send messages to the ancestors. The best part was seeing how happy they were when their kites took flight! Like the kites, these children are so brilliant and full of life. It is a pleasure to watch them dance and soar to new heights!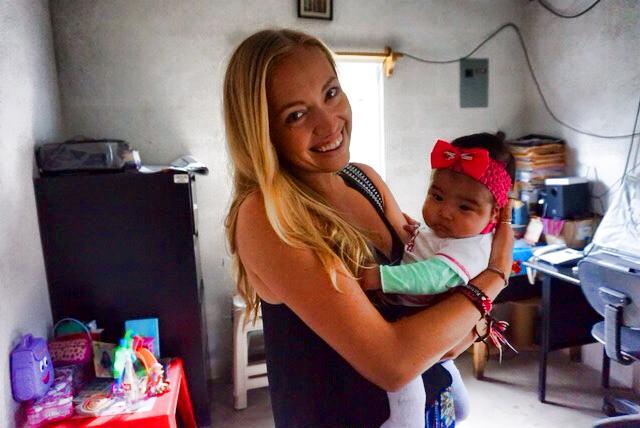 Family engagement is the first step in providing for the child's health and well being. Part of my work as a Global Advocate has been building relationships with each family.
I have visited their homes, listened to their stories, and asked questions regarding health, nutrition, and socio-economic circumstances. I enter into a dialogue with mothers to explore their interest level and how they would like to participate in activities the program could offer them. In this way they are co-creating new opportunities new opportunities for themselves and helping to build community. When the families are supported, they take more responsibility in their child's education.
Bonus: sometimes during home visits, I get to hold babies for hours, drink hibiscus tea and learn things about Guatemala that I would otherwise never hear about. We are creating relationships that will continue long after I leave Guatemala!
Happy Friday!!! Yesterday we painted the walls of the Center! The students come back next week and we wanted it to be bright and inviting. Henry, one of the students, came to help out 😊 It's looking great!
Weekends provide time to delve into the colorful culture of Guatemala. I met Victoria and her daughters a couple months ago who work in a women's cooperative in San Juan la Laguna, and today they taught me how to weave! They use materials such as cotton, silk and bamboo, and dye it all by hand using natural plant dyes including carrot, beet, indigo, coconut, avocado, cat's claw, and many more. For the color fixer they use a liquid that comes from inside a banana tree! Buying a scarf will never be the same, because now I know how much work and love goes into each piece ❤
Lake Atitlan is renowned as one of the most beautiful lakes in the world, and I'd have to agree! Formed thousands of years ago by a volcanic eruption that left the crater, the lake is surrounded by 3 majestic volcanos, and another active one you can see in the distance. The culture in the surrounding 11 towns (each named after a saint) are influenced by the Mayan people. There are 3 indigenous languages spoken and each town has a traditional 'traje', or dress and celebrate unique festivals. The people truly mirror the beauty and diversity that is the lake region.
The sustainable development project we have been working on the past 3 months has been laying the foundation to create a functioning permaculture farm. On this piece of land, our goal is to produce enough fruits and vegetables (and perhaps eggs and chickens) to feed the children at the Center and their families. After this goal is met, we will start creating small business opportunities to the families to sell produce, lead walking tours through the adjoining forest, and renting out space for workshops. With the legal paperwork, strategic plan and budget coming together, we will begin to clean the water with plants and switch from monoculture crops to a polyculture system and forest plants without the use of pesticides. This process will meet our human development goals while creating a natural ecosystem to provide a flow of resources to sustain the Center and the partnering families.
Meet Jocelyn's family: She and her 8 brothers and sisters live with their parents in a 2 bedroom house. Her mother, Susana, sells snow cones from a small cart on the street, her older brother teaches the students breakdancing, and their father works odd jobs. They live off as little as 400Q ($54) a month. They get water and electricity from a family member who lives next door. Jocelyn is one of the brightest, sassiest, and most respectful students at the center, but this is the reality many of them face at home. We are working hard to ensure each family had access to sufficient, nutritious food. This will greatly improve their health, the development of the children, and help them thrive and blossom into the wonderful little humans that they are!
"Every oasis needs renovating, new energies, and new colors! Painting and redecorating to receive the children with open arms in their beautiful oasis in Panajachel; El Arbol del Niño." -Ingrid (translated from Spanish) We can't wait to see the children's faces and reactions when they come back to the Center tomorrow!
"Children are not things to moulded, but people to be unfolded." -Jess Lair 🌻 It has been an absolute pleasure introducing our newest partnership and sustainable development project in Guatemala with you! We are all so grateful for the outpouring support. By investing in and empowering children, creating and nourishing lasting relationships, joining together community by embracing tradition, listening to one another, and working together, we are building a brighter future!
To follow along this journey follow me on Instagram: @raised_a_wanderer. If you would love to give to this project and help build a permaculture farm to support the holistic education center please donate and share with friends! Every little bit helps! https://www.classy.org/fundraise?fcid=475719